Photography © Sonia Sieff
Credits Éric Lapierre Architectes Chris Marker building
Éric Lapierre
FOR LA FETICHE
COLLECTION SS19
27.10.18
For SS19 we worked together with architect Éric Lapierre who kindly allowed us to use the Chris Marker building to shoot the collection with photographer Sonia Sieff and artist Evangeline Ling.
In the image above Evangeline Ling wears the MARIPOL sweater in Pink and YVES trouser in Navy.
Éric Lapierre (b. Tarbes, 1966) is architect, teacher, theoretician, writer, and curator. He has studied in School of Architecture Paris-Belleville. He has founded and runs Experience in Paris with his partneers Tristan Chadney and Laurent Esmilaire which has been awarded as one of the 50 most interesting, creative and promising architectural firms in 2020 by Domus magazine.. This award-winning firm has been recognized nationally and internationally for the quality of the tectonic objects it builds, but as well for the theoretical dimension of its production.
Éric Lapierre is professor in École Polytechnique Fédérale in Lausanne (ÉPFL), in École de la ville et des territoires Paris-Est, and Harvard GSD in Cambridge (Mass.) He teaches both project design and theory.
He regularly publishes articles and books about the contemporary condition of architecture. Among them Economy of Means – How Architecture Works ? (2020), Éric Lapierre – If the Form Vanishes its Roots are Eternal (2018), Architecture of the Real (2003); Paris, Architecture Guide 1900-2008(2008), also available as an app on App Store Guide Paris Archi.
In 2019 he has been chief curator of Lisbon Architecture Triennial (Poetics Of Reason).
Éric Lapierre is also involved in performance through the production of concerts in his construction sites – he works regularly with Lee Ranaldo (Sonic Youth), Thurston Moore (Sonic Youth), Magik Markers, Six Organs of Admittance, Jean-François Pauvros, Jean-Marc Montera, Theo Hakola, among many others.
Artist Evangeline Ling wearing the ALI shirt in Ecru and YVES trouser in White
Photography © Sonia Sieff
Credits Éric Lapierre Architectes Chris Marker building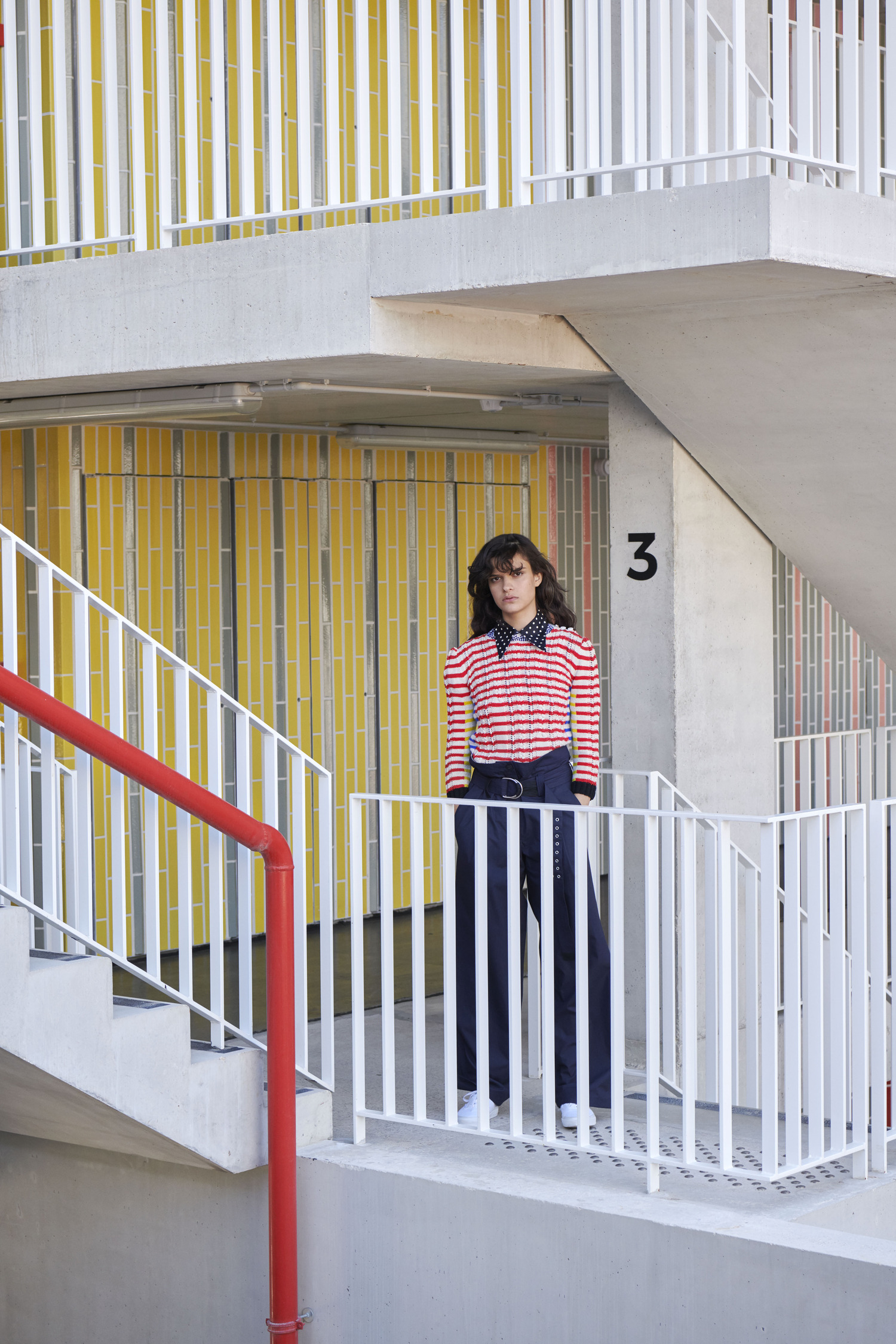 Artist Evangeline Ling wearing the IVY handknit, EDITH shirt and YVES trouser in Navy
Photography © Sonia Sieff
Credits Éric Lapierre Architectes Chris Marker building
Artist Evangeline Ling wearing the ALI shirt in Khaki and BERNADETTE skirt in Navy
Photography © Sonia Sieff
Credits Éric Lapierre Architectes Chris Marker building
More information on Éric Lapierre can be found on his Instagram and website