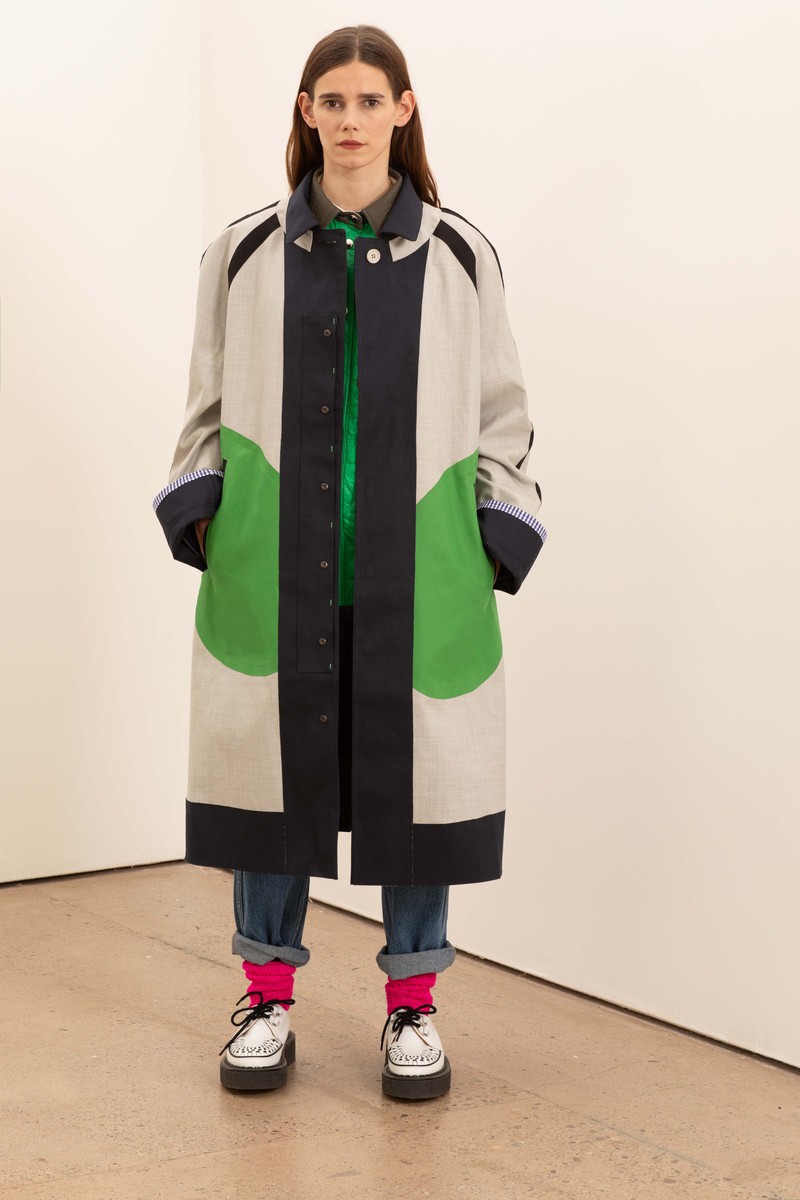 In Paris, La Fetiche Is About "Forever Favorites"

Vogue
27.2.18
Written by Tina Isaac-Goizé
La Fetiche may ring faintly kinky, but, mercifully, the clothes are anything but. The fledgling Franco-Scottish womenswear label hews entirely to the primary sense of the word, meaning the piece(s) one loves to wear the most.
That its Glasgow- and Paris-based founders, April Crichton and Orély Forestier, met at Sonia Rykiel years ago comes as little surprise: Their love of color and (yes) stripes and an upbeat Parisian sensibility would have resonated with the late Madame Rykiel in an "apple never falls far from the tree" kind of way.
"She was such an inspiring character; she was a huge part of my life," Crichton recalled during an exclusive showroom interview. As the creative director behind the Rykiel label Sonia By, Crichton was responsible for spinning out Rykiel's codes for a younger generation. Adds Forestier, her right-hand designer of 15 years, "She always had this instinct for the imperfection that gave a piece its soul."
Last year, after a brief stint doing the Edinburgh-New York commute for Marc Jacobs in Crichton's case, the two decided it was time to get back to elevated basics, but on their own terms.
"We were each craving authenticity and the freedom to design what we considered the ideal wardrobe," offers Forestier. "No mood board, no analysis. It was like this magic moment." Local sourcing and small-batch runs allowed them to reconnect with "instinctive pieces that are lovingly made," for example, by an Alsatian specialist in circular knits, one of the last jeans-makers in France, or farmers moonlighting as home knitters in the Scottish countryside.
The pair also has a wide circle of artist friends who pitch in: Martin Boyce contributed artwork, screens, and clothes rails for showrooms. This season, Hayley and Sue Tompkins contributed ideas for hand-knits. Sonia Sieff shot the lookbooks at the Fondation Le Corbusier, in which Audrey Marnay succeeds the artist Pauline Jacquard as the face of La Fetiche. "Our muses are women with strong personalities," Forestier notes.
Last fall, Dover Street Market was the first to pick up on La Fetiche's first 37-piece Spring collection named (mostly) for women the designers admire. The Rudi sweater with color-blocked neck and cuffs was an instant hit. So were the Coco black-and-white split-side sweater, the Jackie fine-gage ribbed knits, the Angelica high-waisted jeans, and a reversible trench called the Siouxie. The Paloma became a crossover: The Guernsey sweater with red stripes in front and a solid black back found a following among men.
This season, favorites return in new iterations—the trench, a collaboration with Thomas Hancock & Co, is now navy on one side and ecru with black and green accents on the other. The Bowie-inspired Ziggy sweater is studded with imperfect stars, and the duo calls its new, irregularly cabled sweater in hot pink "a lovely collision." The hand-pleated Twiggy kilt comes via the Scottish military specialist Glenisla. "They'd never tried anything like it, but they jumped right in," says Crichton. "When it comes from the heart, it always works out."
Read more on VOGUE